My mom was shoveling and throwing my toy, and my Grandpaw and Aunties Sparkle and Firefox were over playing as well, along with my brother and sisters and foster sister. We were having fun racing and fetching, when suddenly my Auntie Sparkle nipped me in the side! At first mom didn't realize what had happened, but she knew I had hurt my leg or something so she checked me over outside and then we went in to rest. When we woke up from our little nap, mom found a bloody spot on the bed where I had laid. So, she looked at me and she discovered a *WOUND*!
So, she called her friend, the wonderful Dr. Whitney who she used to work with but who now works at the Emergency Clinic in Latham. She told us to come to her house and she would take a look. When we got there, it was kind of scary because she had two little aliens in her house. Mom says they were a toddler and a baby but I know they were aliens. She had them stay a little far away from me so I was able to be brave. Mom laid me down on her lap and told me to be still, and Dr. Whitney made a funny buzzing thing take away some of my fur. They she put betadine on my wound. She told mom she might get away with just stapling it but it would probably be better if it could have proper stitches on the inside first.
So, since it was a snowstorm and the roads weren't good to drive too far, we called our friend Dr. Schug in Schuylerville. They told us to head over so we did. When we got there I had to wait in the waiting room for just a little bit. There was another dog there but I was very brave and sat by mom and only made a face when that dog tried to come over close to me. I just lifted my lips a tiny bit and the other dogs parents took her a little further away.
Then, we went into a room and I got weighed. I weighed 44.4 pounds. The Doctor held my leg and gave me medicine and I fell asleep. Mom carried me into the next room and the Doctor took care of my wound. Then I woke up but I am actually still really groggy.
Mom took pictures, so you can see what I went through.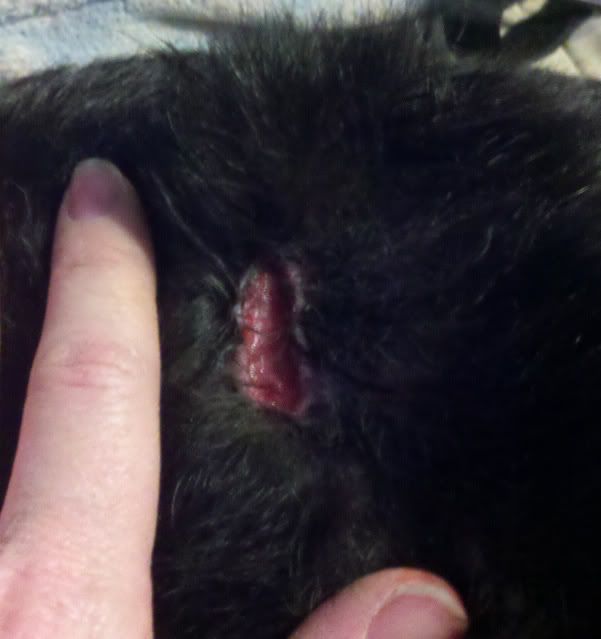 Here is the wound when mom first found it.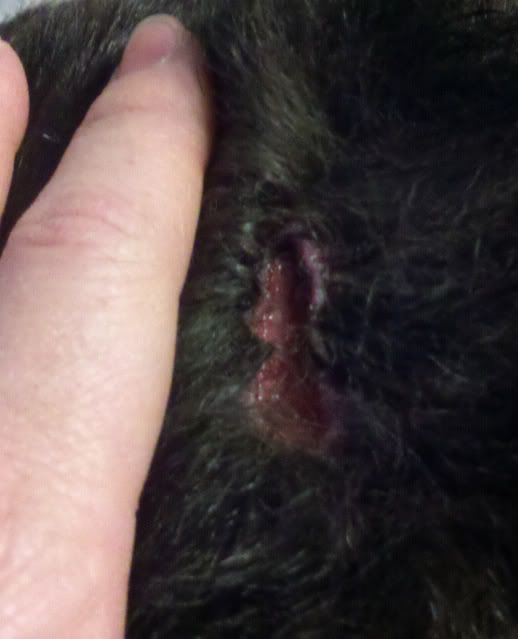 You can see it's pretty open.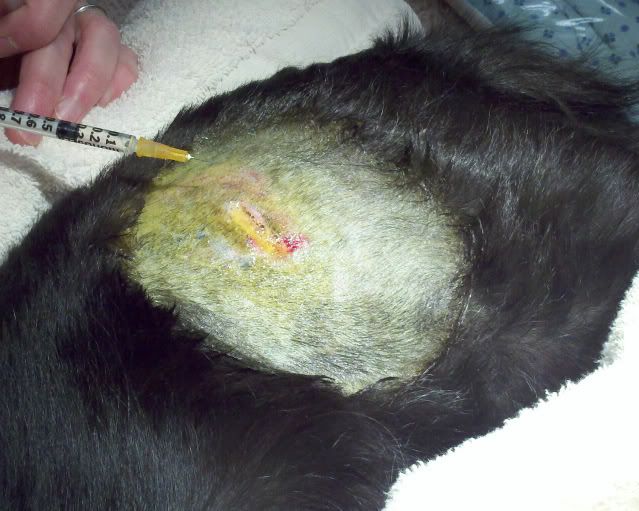 Here we are at the vet hospital. This is after we visited Whitney. Here Dr. Schug has cleaned the area some more and she is injecting some local anesthetic as well.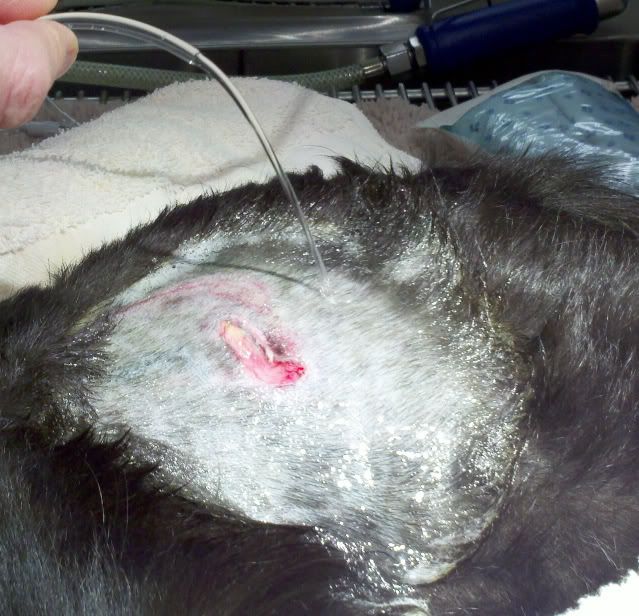 Here she is flushing the area again.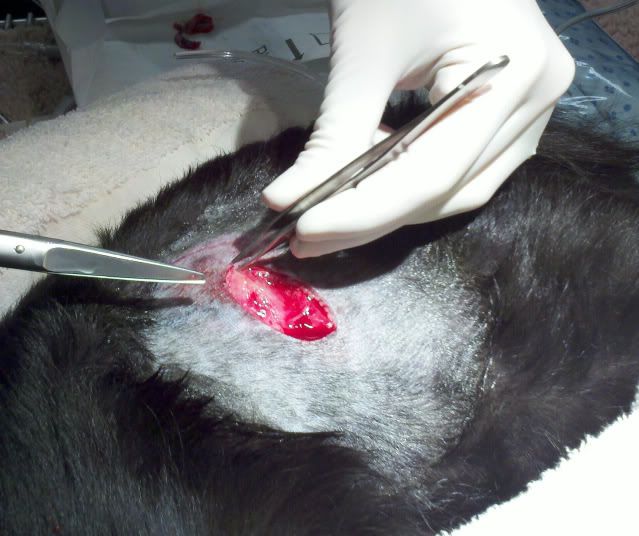 Next, she had to snip some of the skin all around the wound so that it could heal properly. Part of the skin was dying already so it needed to be removed.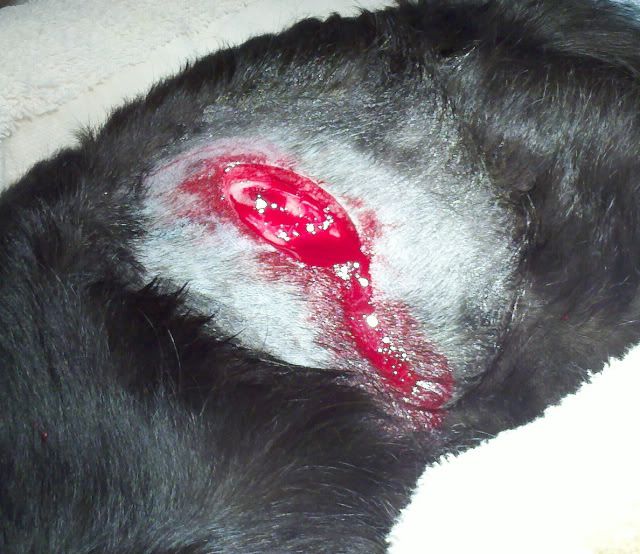 That made it open up a bit more and look more icky, and some blood and serum leaked out.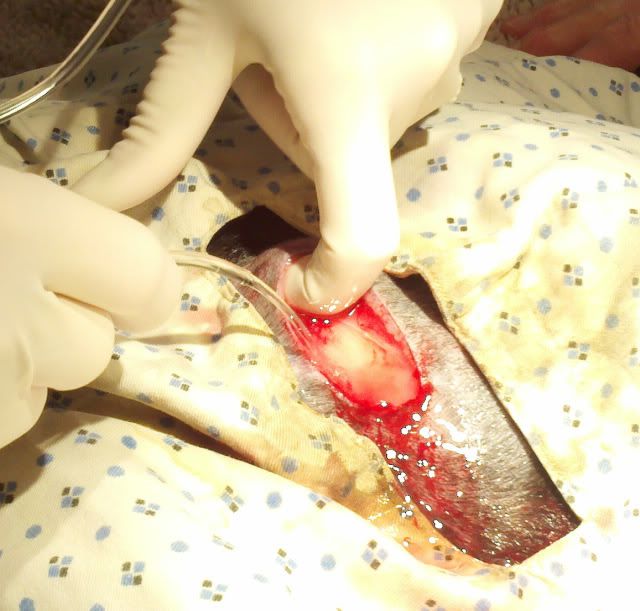 She again flushed the wound thoroughly to get all the little hairs out of the wound.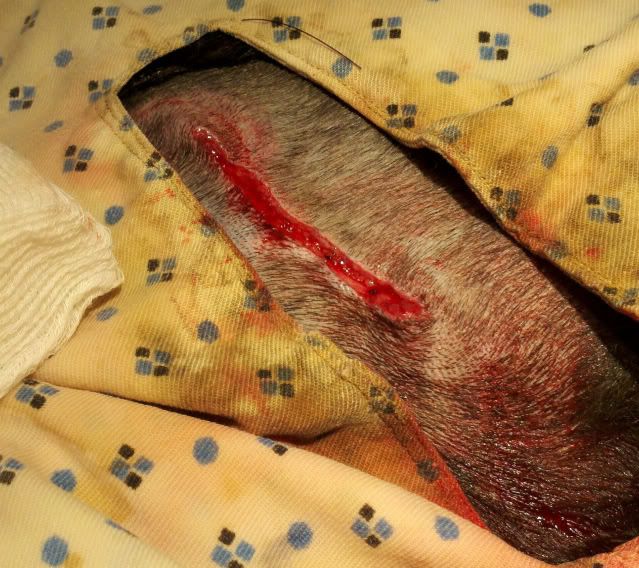 Here it is after the internal sutures were placed.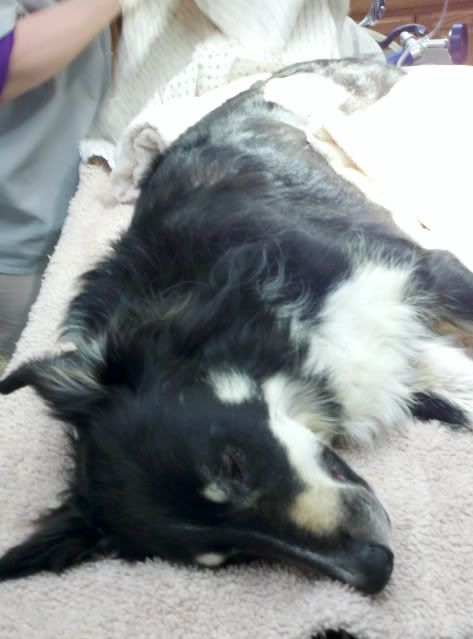 This is me on the table.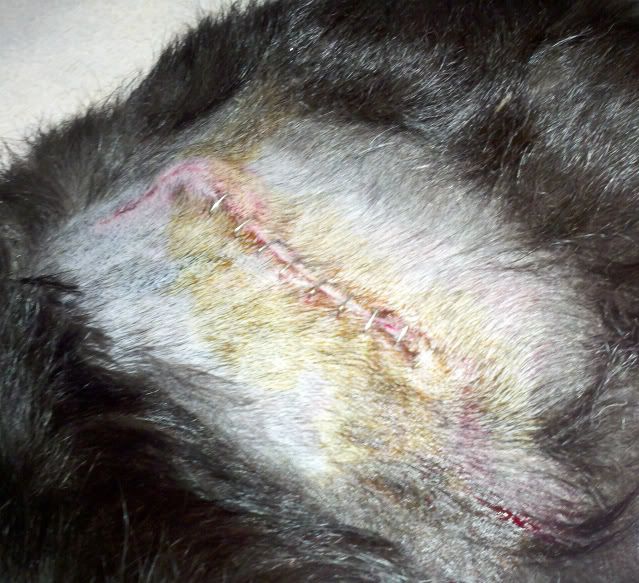 Here is the wound after the staples were placed. At the top left, you can see a scratch, where Sparkle's other tooth scratched me. That part is kinda swollen, but it has been cleaned and I am going to be taking antibiotics so I don't get any infections.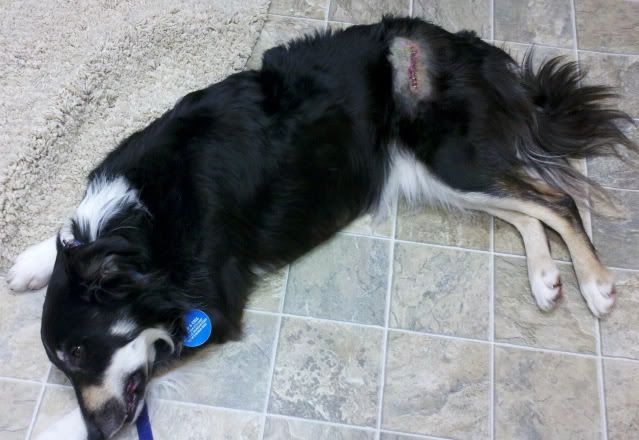 Here I am after walking from the procedure room to the reception area. I was waiting to go home while mom took care of the bill.



I was still pretty tired, here I am at my Grandpaw's house when I got home.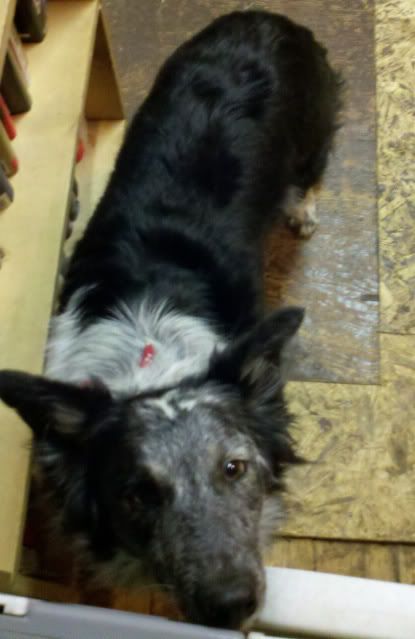 Here is the culprit, she has been apprehended and was behind bars (well, gates) while I was visiting with Grandpaw.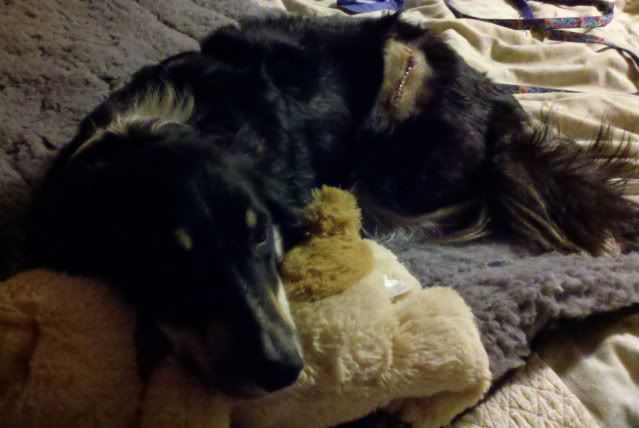 Here I am at home on mom's bed. I should feel better once the medicine wears off.

Well, that is my day. I thought I might get to play while my mom went snow shoeing but instead this happened. THANK YOU TO THE WONDERFUL Doctors who helped me. Dr. Whitney was very calming or me and mom and Dr. Schug did a terrific job of fixing me up just as good as new!!
:-/ WOOF!
ArthurOUCH!