Dust was adopted from Weare Animal Guardians in Weare, NH at the age of 5.5 years. His first family had gotten him from a newspaper ad as a puppy, and were told he was a St. Bernard X Tibetan Mastiff mix. Later his DNA was analyzed and he was shown to be a true mutt, with traces of Shar pei, Chow chow, and Keeshond. Of course, they didn't have tibetan mastiff DNA to compare too, so that could still have been in there. His first family claimed that he got his tongue from the St. Bernard.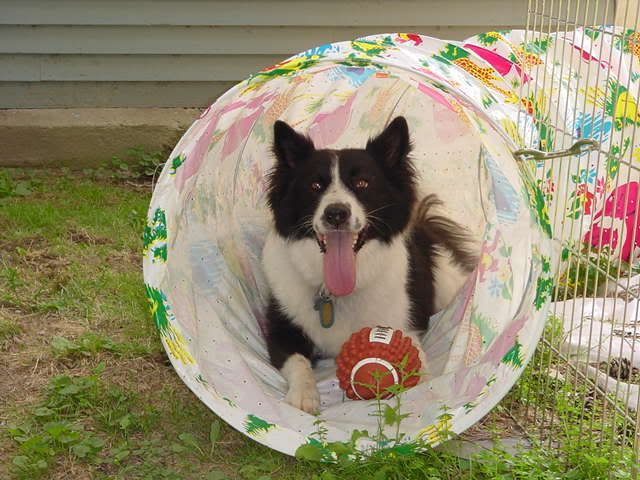 When he was adopted, he was heartworm positive and had to undergo a painful treatment, which left him trembling and terrified of vets for the rest of his days.
Shortly after his adoption, he began limping and was found to have arthritis in his elbows and hips. This definitely slowed him down physically but he still enjoyed swimming and fetching.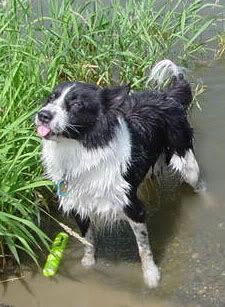 Dust had a joyous smile and he loved everyone he met, and was happy just to be with his person, whether lying quietly nearby or playing fetch, hiking, even kayaking in Acadia National Park.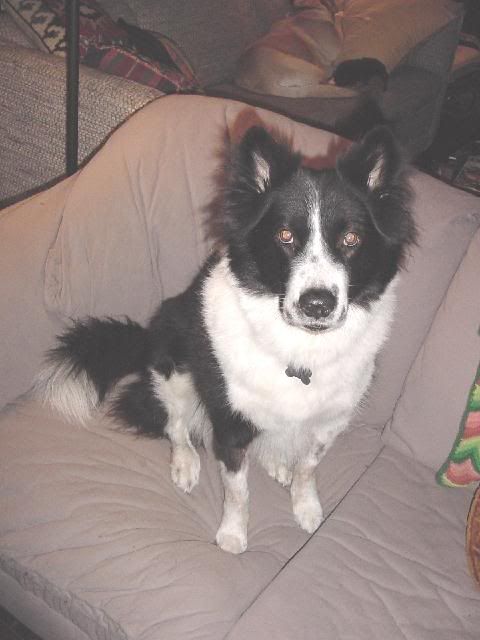 He was a very good brother to his kitty sister Friday, his border collie sisters, Nell, PQ, and Lacy, as well as his aussie mix brother, Saga, and a fantastic mentor to his protege, Arthur.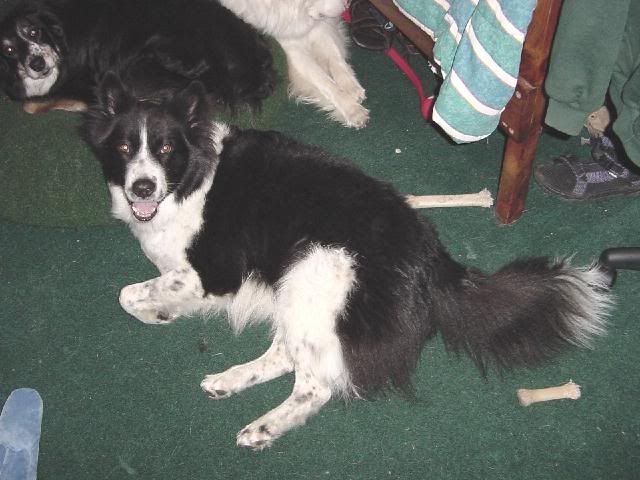 He loved excavating himself a nice cool spot to lie down, too. ;~)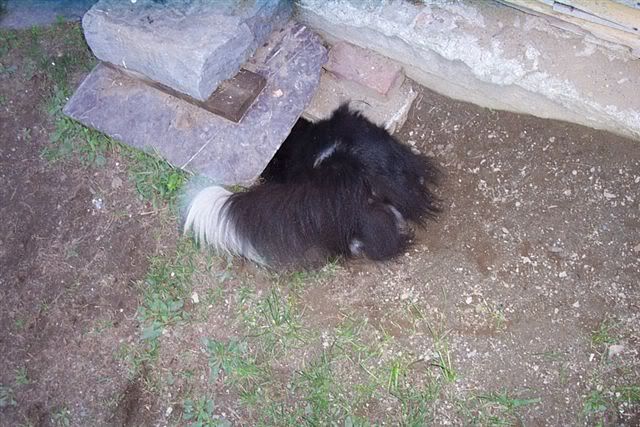 Dust was a photogenic fellow and always happy to pose for pics.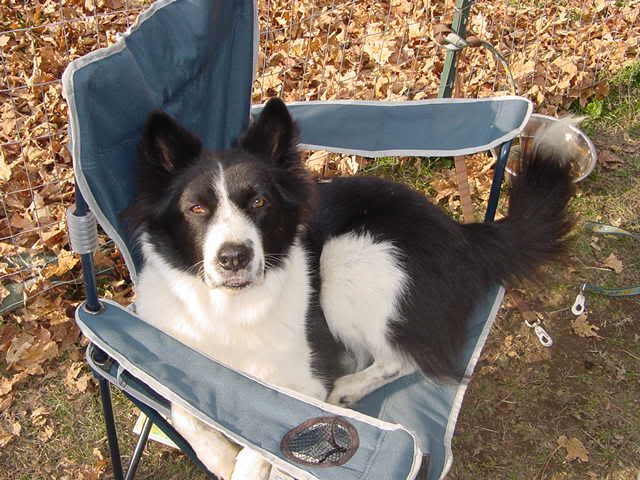 In his younger days before the arthritis set in so much: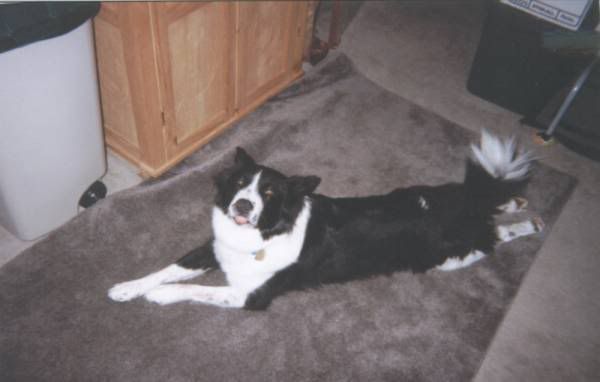 What he thought of this particular Halloween costume!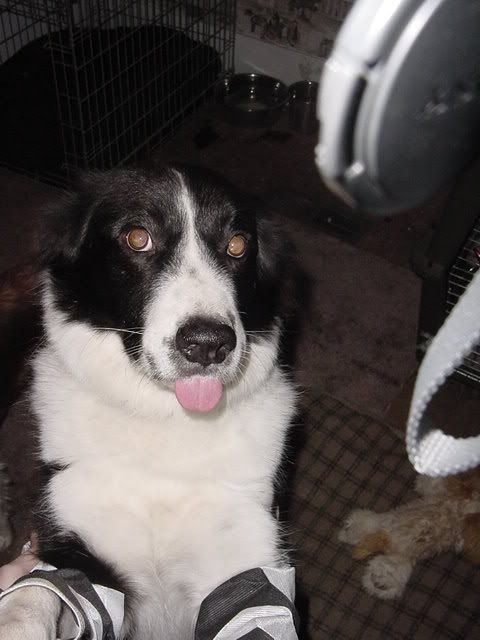 So not true! There never was a better dog that Dust!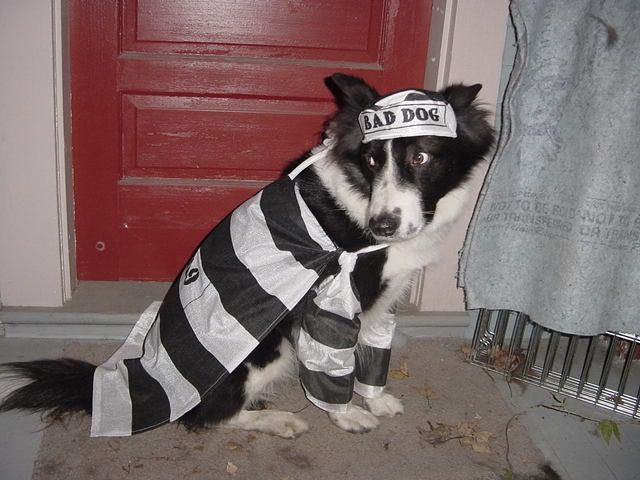 Affectionately known by his "official" name, Dust E. Magee, Dust lives on forever in the memories of everyone who knew and loved him.
Dust got extremely ill in 2005 with a mystery illness that was literally eating holes away in his tongue and mouth and causing awful nosebleeds. It was never definitively diagnosed and it was uncertain if he would even make it to his 12th Birthday, but he did end up having a miraculous recovery thanks to massive, immune suppressant doses of predisone. So truly, every day since then was an added gift - it' hard to ask for more than almost 4 extra years, as much as it would have been treasured.
Dear Dust, you are so very, very, missed, and dearly loved, forever and always. Godspeed, my friend. Please tell all your buddies at the Rainbow Bridge how much each and every one of them is loved and missed as well.
Until we meet again . . .