Hey everybody!
Boy did I have a wild weekend! My mom packed up me, my sister Caper, and my foster sister Firefox and we went to Massachusetts so Caper could play agility at the CPE (Canine Performance Events) Nationals! It was totally not fair that I didn't get to play agility, but I still had lots of fun, until the last night when I had a scary adventure!

It really was a scary adventure, too. I was real tired on Sunday night when we all went to bed, mom and me and Caper were on her side of the camper, foster sister Firefox was in her crate in the middle, along with Auntie Lynn's foster Fly, and Auntie Lynn was on the other side. I curled right up by my momma's head and we all went to sleep. Well, the next thing I knew, I was on the outside, and everybody else was still sleeping on the inside!!! My momma thinks that I must have slide right out of the camper by her head, because after all the excitement she looked and saw that the bungees there had come undone, probably from me sliding out!

Well, anyway, however I got out I can't say, but when my mom woke up and saw I was missing, at first she thought I might be visiting Auntie Lynn, but when she found out I wasn't she got really, really scared! She opened the door to the camper and called my name in a panic and didn't I come right around the camper to see her!?! I was real happy she finally woke up and saved me. I won't saw what I did on my big adventure but mom thinks I must have just curled right up underneath the camper and waited for her to call me. She was so happy that I didn't go anywhere near those cars and campers and things that were all packing up and leaving in the wee hours of the morning!

Mom thinks I probably slid right out before I even woke up because I was soooooo tired from all the fun of camping! Here I am getting ready for bed.

Here I am keeping mom's sleeping bag warm for her!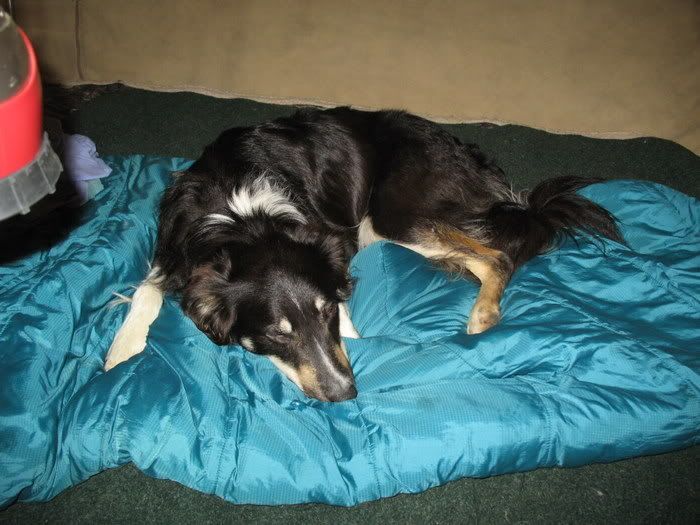 Caper got lots of ribbons! Here she is showing off!!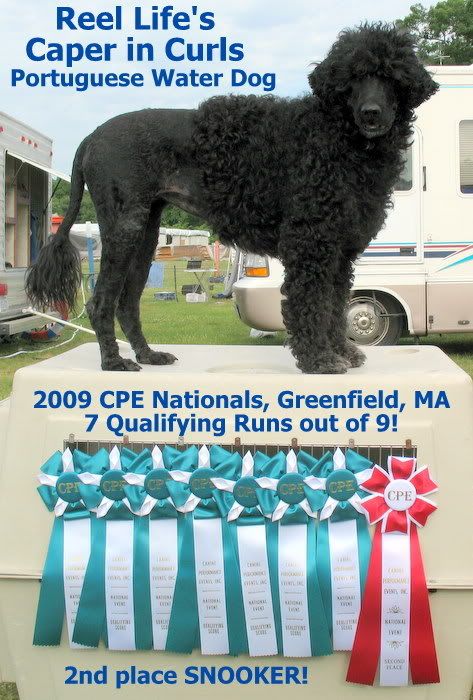 And here is a picture of us three doggies having fun while mom packs everything up!