Hiya everybody! It's been almost a month since I got on here to give you all an update! Sorry about that. My mom was real, real busy finishing up her second semester in grad school, wow, glad she's done with that for a bit, I was getting annoyed with her schedule!

Sooo, so much news to share with you, where to start??

Well, the good news is that my delightful foster sister, Layne got adopted and went to live with a great new family in Maine and she works at a bookstore - cool, huh?? The best part is, she doesn't have to interact with the customers if she doesn't care too, 'case she can be kinda 'fraidy like me sometimes. Well, she doesn't do the whole barking thing, but still. Anyway, here is a picture of her with her new family!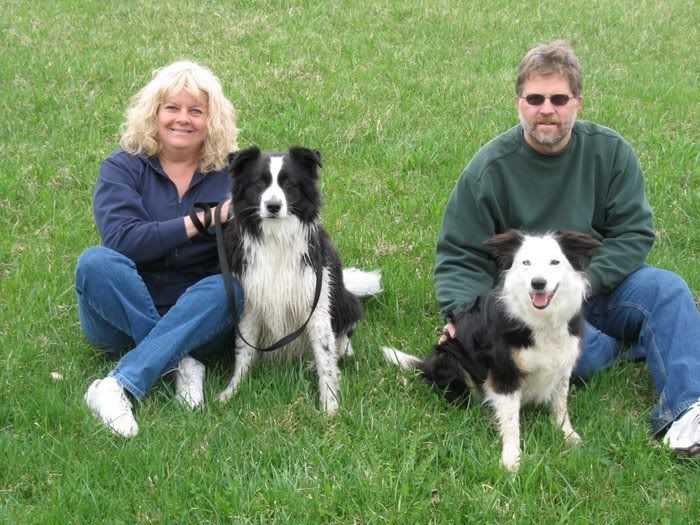 Hmmm. The next news is that after Layne left, I got another new foster sister. Actually, I didn't get to meet her for a while after she came here 'cause she's got "issues." But, my grandpaw named her Foxy and my mom calls her The Fox. Here she is:


Cute, huh??

She's kinds annoying though, because she doesn't understand how to herd me without diving in for a bite now any then. Huh! Mom says she is improving on her issues, though, so that is good news.

Oh, another cool thing is that my momma won 2 more jumps at a raffle that she entered when she took Caper (and NOT me, NO fair) to an agility trial! The coolest thing about that, she says, was that it meant she could now set up jump grids with me. I have fun jumping these! First I jumped them 8 feet apart, then 7, then 6, and then 5!! Once when I was jumping the ones that were 5 feet apart, I jumped over two of them at once! Ha! Mom was very excited that I was doing so well and she wrote and told me agility trainer, Abbie Tamber. I love Abbie! I get to have a lesson with her next Saturday after the reunion, how cool is that??? And in June, I maybe get to go to a special jumping clinic with one of her friends! Hooray!

Me jumping 8 feet apart jumps.


Me jumping 7 feet apart jumps.


Me jumping 6 feet apart jumps.


Me jumping 5 feet apart jumps!



Also, my mom has started us doggies on a new exercise regime, so we can get more tired and in better shape too. And her too! So, she has this thing she loves called the k9-Cruiser! It goes on her bike on the back tire, and then we get hooked up to it and we can zoom along next to her. Well, I zoom along so fast she doesn't even have to pedal! But Caper and Saga just trot along at whatever speed she goes. BooooOOOOOOOooooooorrrrrrrrrriiiiiiiiiiiiinnnnnnnnnnnnggg!! She even tried The Fox out on it and she did good too! She has been taking Saga and Caper together, and me by myself, everyday. It's so fun! I get so excited whenever I see that bike now! Here are some pictures of the other dogs, mom hasn't gotten grandpaw to take any of ME yet. (Unfair!) Oh, and mom says to please excuse her dirty dog jeans!


That's mom with Caper and Saga!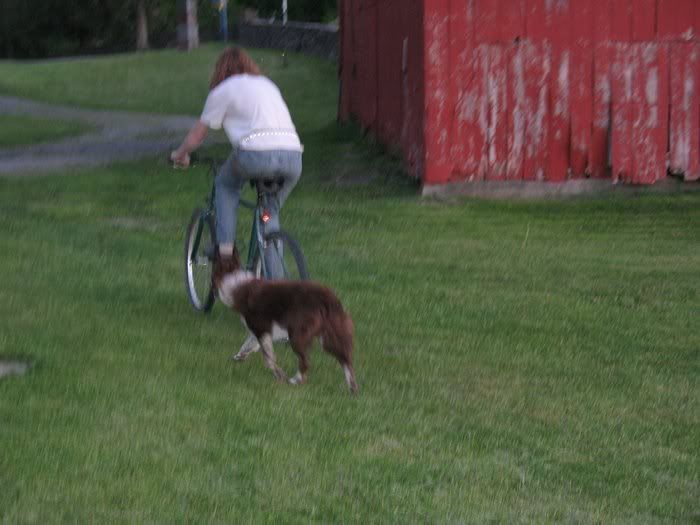 That's mom with The Fox!

Mom says she's way more outta shape that she thought and is complaining of being soooo sore in her neck, back, bum, and legs. What a weeny! I run so fast and I'm not sore at all! And besides, I pull her along so she doesn't even have to pedal, she really doesn't have anything to complain about!

In other news, mom sent my brothers Dust and Saga to the groomer. I thought the looked funny and smelled when they got back but she exclaimed how wonderful and good smelling they were. Humans! I suppose they did look kinda handsome. What do you think?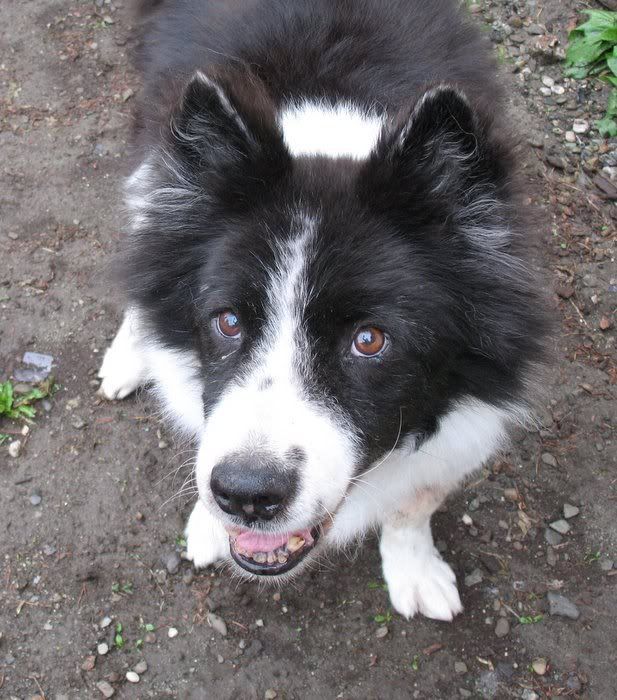 That's Dust. He's 15.5 years old!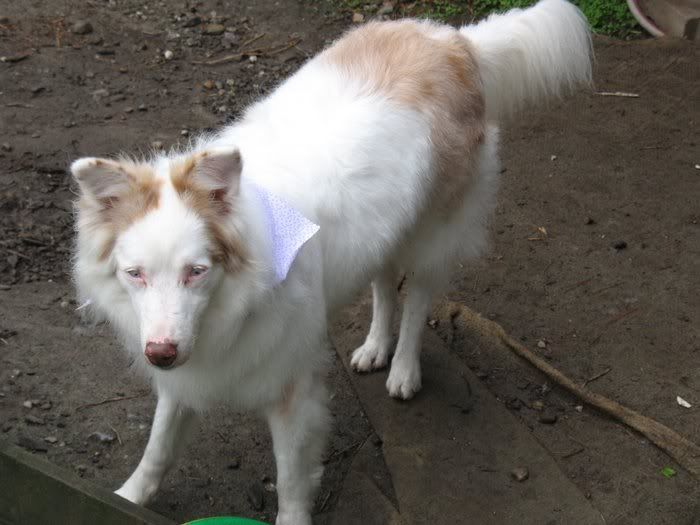 That's Saga. He's 10 years old!

Now, the bad news?? Mom just told me that my old foster brother who I didn't get along with, is coming back! Oh no! And this after she promised me I wouldn't have to have any more foster brothers at all! Luckily, she assures me she'll keep him away from me. Whew. Remember him?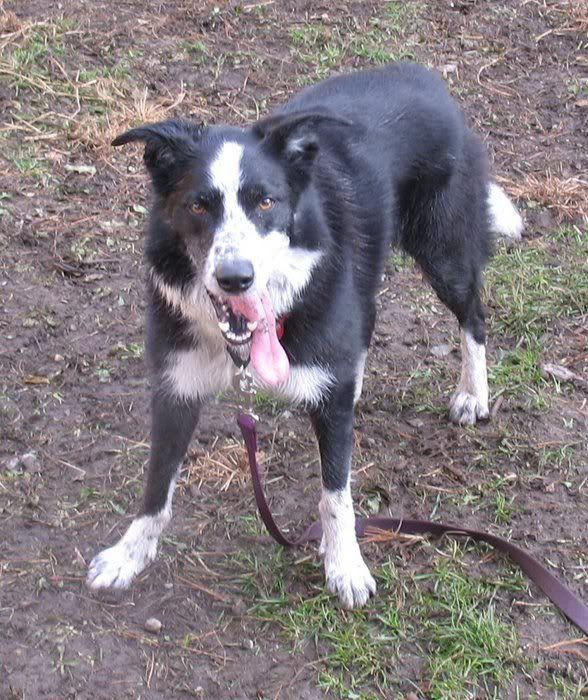 He has to come back, she said, because he isn't listening and he is getting away from his family and harassing the livestock on the farm they live on. What a dope! He didn't bother the cows at Auntie Lynn's house when he stayed there for a week when mom was on vacation, but there he had other doggies to obsess over and chase. Aw well, mom says he's actually a real nice dog that gets along great with all people and even ignores our cats so hopefully he'll get a real forever home soon! And then I can go back to NO MORE foster BROTHERS. (Sisters are fine by me.)

Oh, one more bit of good news! Next weekend in the New England Border Collie Rescue Reunion! Wheeeeeeeeeeee. That means me 'n mom and all my brothers and sisters get to go to Sugarbush Farm and Camp and Swim and Play! What fun! I'll try and remind my mom to bring her camera and take lots of pictures so I can share them with you!!

Ok, I will go for now but I promise to try and update this here blog a lot more often than once a month! Geez!

'Til Later (but not THAT much later!),
ArthurGOOD